'Making people laugh' at The Upstairs Comedy Series in Avondale
Wes Van Horn, a Birmingham native, has worked in comedy as a performer and event promoter for almost 13 years, and he really enjoys what he does.
"I've always loved making people laugh," Van Horn said.
In addition, the "camaraderie and community of comedians is just a cool thing to be a part of," he said.
Van Horn is able to pursue both of those passions by promoting and hosting The Upstairs Comedy Series – an ongoing series of appearances by top-flight professional comics – at Avondale Brewing Company.
Veteran comedian Dave Stone will be the next to appear in the series, on Wednesday, Oct. 19, at 8 p.m. Tickets are $15. An Atlanta native now based in Los Angeles, Stone has headlined at clubs across the country and has worked often on television.
Whitmer Thomas, a Gulf Shores native, will appear in the series on Tuesday, Nov. 15, at 8 p.m. Tickets are $20. A comedian, musician, writer and actor, Thomas is touring in support of his new album, "The Older I Get The Funnier I Was," to be released Oct. 21.
Van Horn began booking the The Upstairs Comedy Series at the brewery in December 2019 and did three shows before shutting down due to the COVID-19 pandemic in March 2020.
"I wanted both audiences and comics to feel comfortable, so we went on hiatus until December 2021," he said. "Now we're back and feel like we're able to gain some more momentum."
'Old-school comic'
Many of the comics that Van Horn brings to Avondale Brewery, including Stone and Thomas, are entertainers he met and befriended in Los Angeles. Van Horn worked in the L.A. comedy scene for several years before moving back to Birmingham in 2016.
He said he's "excited to hear new musings" from Stone, who is making his second appearance in the series.
Stone is "an old-school type of comic," Van Horn said. "His Southern upbringing plays into that, but also just the way he constructs his stories, observations and sentences is very much in a traditional way that feels like you're talking to an old friend but is also very polished. He's very much dedicated to the craft of writing a good, full bit and never takes the easy road or panders."
Stone made his TV debut on "The Late Late Show with Craig Ferguson" in 2013 and appeared on NBC-TV's "Last Comic Standing." He voices several characters on the animated series "Squidbillies" on Adult Swim.
Other TV appearances include Viceland's "Flophouse" and Travel Channel's "Cheat Day Chow Down."
He also hosts the paranormal podcast, "The Boogie Monster," with Kyle Kinane and "The Stonebergs Podcast" with his wife, Katie Strandberg.
In addition to Stone's talent, Van Horn has another reason to invite him to the Magic City.
Stone is "the best buffet or BBQ buddy around," Van Horn said.
Both men have "a passion for Southern foods and sensibilities," he said.
"We just click," Van Horn said. "I'd be lying if I said I wasn't almost as excited for taking him out to eat as I am for the show. They're neck and neck."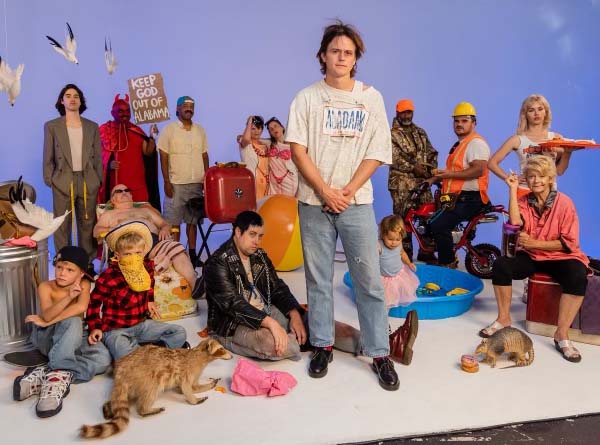 'Thoughtful, hilarious stuff'
In addition to the release of the new album, the multi-talented Thomas has completed a dizzying array of projects.
His 2020 HBO special, "The Golden One" – filmed at the legendary Flora-Bama bar in Pensacola, Florida – is a blend of live musical comedy and documentary.
He co-wrote and co-stars in a recent film, "The Civil Dead," which won the Audience Award at Slamdance and has been shown at such film festivals as the Sidewalk Film Festival in Birmingham.
His musical skits, "Big Baby" and "Big Baby Christmas," have attracted hundreds of thousands of views on social media.
He has appeared on numerous TV shows, including "The Good Place" and "The Walking Dead," and in the 2019 film "Sword of Trust," which was filmed in Birmingham.
"Comedically, he's someone who not only does something completely different than most other comics, but he's the only one that could do it because it's so personal and absurd at times," Van Horn said.
Thomas is a unique performer because he "brings an earnest vulnerability that most comics couldn't imagine that's rooted in very personal stories and feelings, but it's anchored by this extreme ridiculousness as well, that never lets it get too heavy," Van Horn said.
Thomas does "very thoughtful and hilarious stuff," he said.
Thomas has a way of "putting a specific dumb feeling we all have into a song or joke that's just perfect and sums up how we're all just idiots walking around feeling the same things but never talking about them," Van Horn said.
Get the deets
For updates regarding The Upstairs Comedy Series, follow "The Upstairs Comedy Series" on Facebook or @upstairscomedy on Instagram.
For more information about Avondale Brewing Company, call 205-203-4546 or go to avondalebrewing.com.